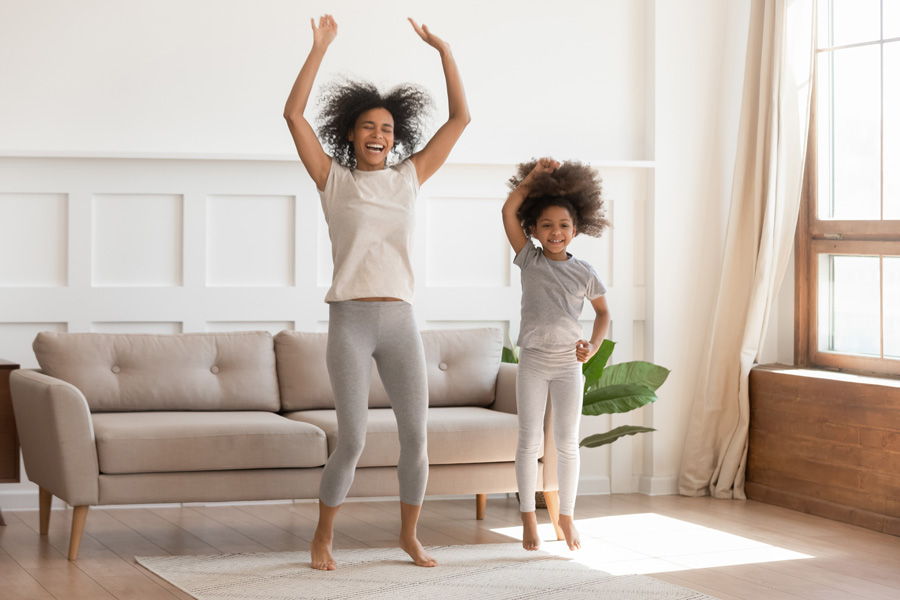 Make It Fun
Since you likely will not have as much equipment at home as you would find in a gym you might find yourself getting bored with the same routines. Mix it up by searching the internet or fitness magazines for some new exercises. Find videos you could work along with. Don't forget to challenge yourself but always do so safely.
Find a Fitness Buddy
It can be hard to stay motivated when alone. Ask a family member or friend to join you. If you can make it a regular appointment you will find it easier to get into the habit and avoid skipping days.
Schedule It In
Make a firm schedule for your fitness routine. Using a planner or calendar to write out your routine is important. If an event comes up that conflicts with your workout then reschedule the workout immediately.
Record Your Progress
Everyone is different and what works for one person may not work for another. As you try different things write them down. Be sure to record, not only your workout routines but also your meals. You might find that the same workout is fine on one day then more difficult on another. Looking at what you ate that morning or how much sleep you got the day before could shed light on what works for your unique body. This way you can see what works for you and what doesn't.
Set Goals
Having a goal is a great way to stay motivated and keep track of your progress. But here are a few tips for setting goals that will help, not hurt. Make sure your goal challenges you but is attainable. Make them specific and set a time to complete them by. It can be good to set some long-term goals but have some short-term ones as well. And focus on just a few important goals rather than overwhelming yourself with too many at one time. You can always add more as you accomplish each goal. And reward yourself for every victory big and small! Lastly, if you miss a workout session or fail to meet a goal on time, don't beat yourself up! This happens to the best of us. Just dust yourself off and keep on going!
Integrate Fitness Into Your Lifestyle
Create an exercise routine that you will be able to and more importantly want to continue. By having the mindset that fitness will be a permanent part of your everyday life, you will be able to not only reach your goals now but continue to live a healthy lifestyle for all the years to come.
By Everton Ridge Homes | 6-3-2021
In the early fall of 2020, Ellie and I made the decision to move back to Western Canada to be close to family and the mountains. Vernon seemed to be the ideal spot.

We landed on Vernon due to its proximity to the lake and mountains, as well as great access to all of the amenities which are afforded as part of living in the Okanagan Valley. We started looking at pre-owned properties, but quickly moved to the concept of building a new home - something we are very familiar with.

We started the process of builder selection on the internet using a standard set of criteria. Very quickly, our selection honed into Everton Ridge Homes as THE PREMIERE Builder in Vernon, noting all the various awards the company has won over the years building in Edmonton, AB, and Vernon, BC.

We did not know how the building process would work, being located and mostly locked-down due to COVID in Ontario, and building a house in BC remotely. We thought that it might require lots of disruption by way of travel for selections, site visits and so on. However, we approached the process with an open mind.

The initial sales contract and paperwork went well. We were able to communicate back and forth with Muriel in sales via phone, text message and email. The process went incredibly smoothly and quickly. Within a week we signed off on the lot, plan and house design, and we were ready to start the build. This was an exciting time as we were able to get a great lot with the assistance of Muriel and MJ. Both sent photos helping us to select a lot with an awesome view. Very good first impressions of the journey.

In the next phase, we had the excitement of getting into the details. We still had no idea how living in a different province would work and how we would be able to actually get through the process; not only the selections, but also the checkpoints in construction walkthroughs, requirements and so on. However, since we are tech-savvy and were unable to travel to BC in person, mostly due to COVID restrictions, we were very open to using technology to communicate.
Our first appointment via Zoom/conference video call with MJ, our Customer Relations Director was impressive - we were introduced and set up to Buildertrend: an online portal that allowed us to view all relevant documents, running costs, the project plan, and weekly photos of the build.

We also utilized weekly conference calls with MJ for selections and progress reviews via Google Meet. Our experience has been that MJ is the consummate professional, as are all of the Everton team.

We already finished the electrical walk-through. We had a great experience doing it virtually! We had a lot of detailed questions for the electrician and Everton Ridge Homes site supervisor. The whole team participated as we all worked through the questions. We embraced the new virtual reality and available technology making it possible to build our new home from another part of Canada!

With COVID, many lives changed, we adapted and we support companies who "move with the times". Everton Ridge has already made a successful transition by offering the customer home building experience through the virtual world of the Internet. We highly recommend Everton Ridge to those potential buyers excited to embark on the new frontier to build a house virtually!

Two very satisfied Everton Ridge Home Buyers!
Ellie and Tim

By Everton Ridge Homes | 6-1-2021